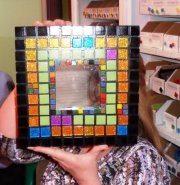 Come one, come all! Last scheduled TileMosaicGirl class of 2012!…"Make a Mosaic Quickie: Mosaic Mirrors for Holiday Gifts" Workshop! NEW date: Thursday, Nov. 29 from 6;00-9:00 pm.
Come on down, see the NEW TileMosaicGirl shop, and knock out a wonderful Mosaic Mirror in ONE NIGHT! We'll be havin' a good 'ol time, with good music, holiday food and drink, and we'll be focused, focused, focused so that we can complete our projects in one night. We'll use adhesives and methods that allow us to get done quickly and viola!; you've got an awesome Mosaic Mirror for holiday gifts or yourself!
Cost for this 3 hour workshop is $40 plus a $15 materials fee payable in class. This will include your 10×10″ wall mirror, solid and iridescent glass vitreous tiles and some glass glitter tiles! If you've had a little bit of experience doing mosaics, you can do this workshop! Tell your artsy friends; if you think they can do this project without a Beginners class under their belt, thats fine with me; lets just make it a fun time where we can get some cool stuff made!
PRE-REGISTRATION REQUIRED and space is limited, so register now! This workshop WILL fill up, so don't wait to reserve your space! Click Here to Order tickets via Eventbrite.
Do you love buying local and handmade items for the holidays, rather the same 'ol, same 'ol mall stuff? Well, have I got good news for you!..I've got at least two upcoming shows for the holidays amongst great groups of other artists! I'll have lots of new mosaic and mixed media wall art, functional pieces, and jewelry and accessories! Mark your calendars now for these great events…
Holiday Open Studio/Trunk Show: Thursday, November 15 from 5:00 to ?? pm at an artist friend's home studio in West Arvada, this is a super fun night of cocktails, treats, and shopping! Join us for a great time; a stress-relieving break to let go and hang with new and old friends…we'll have holiday beverages and spirits and yummy food and treats to warm your belly and rosy your cheeks! The host loves having this annual event to connect all kinds of friends and artists…you'll see art for sale that includes: inspirational paintings, mixed media mosaic art and jewelry, vintage and upcycled gifts and jewelry, fused glass creations and jewelry, handmade ceramic wares, eclectic and unique clothing, and unique beaded jewelry. If you're interested, please email me and I'll send you an evite with all the details!
Another great show I'll be at is the Holiday Fair in the atrium of City/County of Denver's Wellington Webb Building on Thursday and Friday, December 6th and 7th, from 9:00 am to 2:00 pm each day. This annual holiday event is free to attend and open to the general public. You'll be through Thanksgiving and looking for some more great holiday gift items, so come on down if you can make it those days. This is a nice, leisurely, not-too-crowded or big fair in a beautiful indoor atrium with surrounding food vendors. Come in out of the cold and take your time browsing the many varied artisans' booths!